Top 5 Women's footwear includes Wedges, Ballet Pumps, Canvas shoes, Flip Flops, and Court Shoes. Other than the Good Looks, comfort is also an important factor.
The markets are flooded with a wide array of shoe styles for women that certainly make it difficult to pick out those that would be ideal to wear.  To go out with your best version, make sure your footwear compliments both, your personality and your outfit.
Footwear, dear ladies should not only have intrinsic beauty but they should be functional too.  Some are appropriate for various situations but some go only with particular outfits.
So here are five types of footwear which I feel you need to have in your shoe rack. First four on my list are casual shoes which as the name indicates, are fit for most situations and one wears them on a day to day basis.
Another attractive feature of casuals is that these are pocket-friendly.
The fifth one is a formal type. You can just have a Look.
1. Wedges
Check out Wedges for women at Cashfry with Amazon Discount Coupon Code. For those who prefer high heels, wedges are a lot comfier than many painful uncomfortable heels and render polish and sophistication to your personality. These go with formal as well as casual outfits and help you to be on your toes without causing discomfort and fatigue. Look tall!
2. Ballet Pumps
These are perhaps the most versatile types. Flat slipper type shoe, ballet pumps come in different designs, colors, patterns and materials. You can wear them almost anywhere. Those with laces can be even more chick and sturdy. These keep you grounded and help you move with ease. You can certainly pick a few pairs to go with different outfits or wear them according to your mood!
3. Canvas Shoes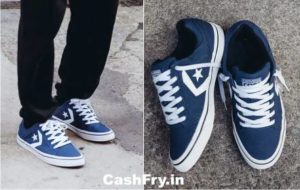 Most ideals for teens, canvas shoes have a sporty look and are light in weight. There are numerous colors and prints to choose from. These can be worn with any t-shirt and jeans or ankle-length lowers or even with short pants. Wear them to college, go for walks, picnics or trekking. Just flaunt!
4. Flip Flops
Ideal for summers, flip-flops are simply most versatile, light in weight as the soles are generally made from foam and super easy to slip on. If you prefer vintage glamour, go for a pair with leather straps and gems to suit your outfit. Ones with plastic straps become ideal for beach wear or the monsoon of course!
5. Court shoes
These have that classic style that makes them suitable for more formal events. You can wear them to various parties, business events or weddings. These are carefully designed and have a low line upper, pointed toes and medium height heels. You can find them in classic colors like black, brown and beige. However, more fashionable styles are now available as the industry is expanding. Go ahead and get a pair!
You can buy all these Shoes, Footwear at Amazon and that too at Discounted Price with Amazon Promo Codes at CashFry.
You can get the best deals at Cashfry. Click on the above link. If you are a woman, you must check out 'Women's Clothing Outfits'.