Best places to visit in Delhi are Red Fort, Qutub Minar, Humayun's Tomb, Taj Mahal. There are plenty of other Tourist Places in Delhi which you can check out in this blog.
Delhi is one of the oldest cities of the word. It was named as Indraprastha from the age of Pandavas.   Following are the Top, Prominent Tourist Places in and near Delhi:
Red Fort:
Red Fort was built during 1639 and 1648 by Mughal King Shah Jahan.  Shah Jahan (1592-1666) was the son of Jahangir (Salim) (1569-1627), and everybody knows that Salim was the son of Akbar (1542-1605). Father of Akbar was Humayun and Humayun (1508-1556) was the son of Babur (1483-1530).
There are different portions in the fort such as Diwan-e-Aam, Diwan-e-Khas, and Rang Mahal. We are giving here below the amazing facts about Red Fort.
1. Some Parts of the building were made of limestone. That portion and the whole Red Fort was painted in red color by British emperors. That is the reason it is called as 'Red Fort'.
2. The original name of Red Fort was 'Qila-e-Mubarak'
3. There are two main gates named as Delhi Gate and Lahore Gate.
4. One small gate opened towards the Yamuna river.
5. The famous Kohinoor Diamond was studded in the Gold Throne of Shah Jahan.
6. Bahadur Shah Zafar was tried in Diwan-e-Khas by British emperor and was put behind bars in Rangoon (Burma).
7. Rang Mahal was the Palace for Queens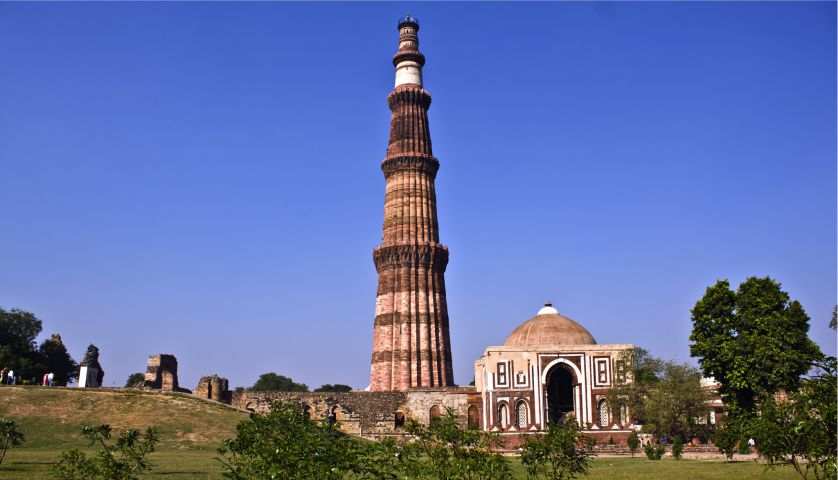 Qutub Minar
Qutub Minar was built by  Qutab-ud-din Aibak in 1192.  A few amazing facts about  Qutub Minar are as under:
1. There is no any other tower as high as Qutub Minar in India.
2. Muslim empire started with Qutub Minar in North India.
3. It is the highest tower made with bricks in the whole world.
4. The Qutub Minar was damaged twice in olden times because of lightning and was repaired.
5. There is a light show at Qutub Minar every evening.
Humayun's Tomb
Humayun's tomb was built by Humayun's first wife Bega Begum in 1569-70. The amazing facts about the tomb are:
1. The architecture is similar to the Taj Mahal.
2. It is the first tomb with Garden layout.
3. There are about 100 more graves without names.
4. It is the first Indian building with double-domed elevation.
The image is featured at the top of this article.
Taj Mahal
Taj Mahal was built by Shah Jahan during 1632 to 1653.  Some amazing Facts about Taj Mahal are as under:
1. Taj looks Pinkish, White, Golden at different hours during the day.
2. About 12000 visitors come to see Taj every day.
3. Taj Mahal is 5 feet taller than Qutub Minar.
4. The minarets are made tilting towards outward, so that it may not damage the main Gumbad during an earthquake.
5. 22000 workers were involved to build Taj Mahal.
6. Taj Mahal is named after the name of Mumtaz Mahal.
7. The elevation of the for sides of Taj is the same.
8. The material to build Taj was hauled by 1000 elephants.
9. British Army took away the precious stones during the 1857 war.
10. Taj has got a beautiful garden.
You can book your ticket at the discounted price with MakeMyTrip Coupons. If you are an International Traveller visiting India, there are MakeMyTrip International Flight Coupon Code.
Make My Trip is a popular online flight and hotel booking portal.  They offer plenty of Discount Coupons, Promo codes and offers at CashFry.in.
We have written about many places to visit in India. You can check out 5 Places to Visit in India in December.