Chittor Fort is one of the largest forts in India. It covers the area of about 692 acres, about 590 feet high by the side of river Berach. It is 2 Kms long and 155 meters wide. The perimeter of the fort is 13 Kms. Chittorgarh was the capital of Mewar.
It was built by Maurayans in the seventh century. It is said the fort was built Chitrangada Maurya.
How to reach Chittorgarh:
Chittorgarh is about 579 KM from Delhi.  You can reach Chittorgarh by Air, Train, Car or a Bus. If you want to go by air, you can book your Air Ticket up to Udaipur at the Discounted Price by using MakeMyTrip Discount Coupon Codes.  There are a few airlines such as Jet Airways, SpiceJet, IndiGo, and Air India which can go up to Udaipur. From Udaipur you can go by a Cab, Bus or even a train.  From Udaipur it is about 120 KM, A Cab will take hardly 1 and a half hours.
Chittorgarh was acquired by different dynasties:
In the seventh century, it was under Mewar Kingdom.
From 9th to 13th century was under Paramara empire.
In 1303 Allauddin Khilji defeated Rana Ratan Singh by deception.
In 1535 Bahadur Shah King of Gujarat defeated Bikramjeet Singh and took over the fort.
In 1567, Akbar defeated Maharana Udai Singh ll.
The fort had 84 water resources in the shape of ponds, wells, and step wells. The water storage was sufficient for many years.
Different Parts of the Fort:
There are 4 palaces which include Padmini Palace, Rana Kumbha Palace, Fateh Prakash Palace, Rana Ratan Singh Palace. There are plenty of temples and a few memorials inside the fort.
Rana Kumbha Palace:
Kumbha Palace is the oldest building located near the Vijay Stambha. There is a Shiva Temple inside the palace. There are stables for elephants and stallions. Maharana Udai Singh ll (1522-1572), is said to be born in this palace in 1522. He was the 4th son of Maharana Sangram Singh (1482-1528). His mother's name was Rani Karnavati. Maharana Sangram Singh is also known as Rana Sanga in history.
It is said, once, uncle of Udai Singh ll, whose name was Bhanvir came to kill Udai Singh ll. Her nurse Panna Dai replaced Udai Singh ll by her son Chandan and thus her son was killed by Bhanvir. Udai Singh ll was shifted to a safer place in a fruit basket.
Rani Meera the famous poet also lived in the Kumbha Palace. She was the wife of Bhoj Raj (1487-1526). Bhoj Raj was the son of Rana Sanga and Rani Kanwar Bai. Bhoj Raj built a temple for her to worship Lord Krishna. Bhoj Raj died in 1526. He had no child and therefore he had no successor. His heir was Rana Ratan Singh ll.
After his death, Meera was poisoned by his brother-in-law Vikramaditya. Meera went to Dwarka in Gujarat where she got disappeared.
Rani Padmini did the act of Jauhar in this palace when Allauddin invaded Chittorgarh.
Rani Padmini Bai Palace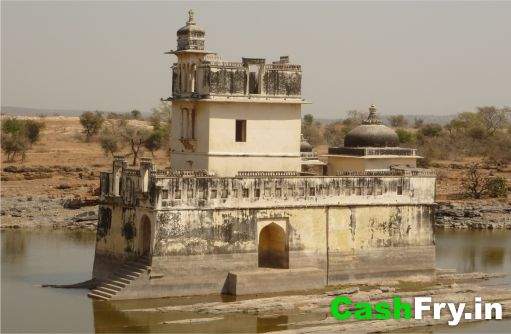 Palace of Rani Padmini was built in white color. There were 3 stories in the palace. It was surrounded by water. This was the palace where Allauddin had a glimpse of the queen through the mirror. Thereafter Allauddin invaded Chittor and killed Rana Ratan Singh with deception.
Seven Gates (Pols) of the Fort
The fort has seven gates. The names of the gates are Padan Pol, Bhairon Pol, Jodla Pol, Hanuman Pol, Laxman Pol, Ganesh Pol, Ram Pol. There is a road which connects all the gates. Ram Pol is the main gate. Pol means gate in the local language.
Vijay Stambha
It was built by Rana Kumbha (1433-1468) during 1458-68 in the memory of his victory over Mahmud Shah king of Malwa in 1440.
Kirti Stambha

This is 72 feet high tower dedicated Digambar Jains Monument. It was built in the 12th century by Jain follower.
Apart from Rajasthan, Kerala is a very good state. It is called God's own Country. You can check out Places to visit in Kovalam, in Kerala.