Mehrangarh Fort Jodhpur: (हिंदी में )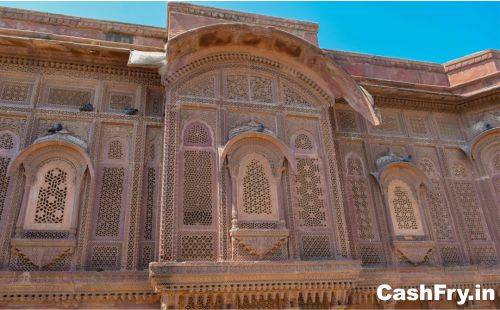 How to Reach Mehrangarh Fort:
Jodhpur is about 575 KM from Delhi. You can go by train, Car and a bus. Alternatively, you can reach Jodhpur by air,  by booking a flight Ticket through MMT at a discounted price with MakeMyTrip Domestic Flight Offers. By road, if you go from Udaipur, Jodhpur is about four and half hours journey, and about six hours journey from Jaipur.
Mehrangarh Fort History
Mehrangarh Fort was built by Rao Jodha in 1460 in Jodhpur, Rajasthan. This is one of the Largest forts in India. It is constructed at 410 feet height above the city. There are thick walls around the fort.
The fort area is about 5 Kilo Meters. The walls are 36 meters high and 21 meters wide.
The rocks under the fort are called Malani Igneous Suite Contact, which is a range of mountains made out of volcanoes, a million years ago.
Rao Jodha was the son of Rathore Ranmal. Ranmal had 24 sons. Jodha was the 15th Rathore ruler. He was at Mandore fort. This fort was 1000 years old and in a very deplorable condition. Jodha wanted to shift his capital to a safer place, and thus the city of Jodhpur was created.
Jodhpur was founded by Rao Jodha in 1459. The earlier name of Jodhpur was 'Marwar'. It is also called Blue City because there are several houses painted in blue. The Blue color is considered that it repels the mosquitoes and keeps the houses cool by not absorbing the heat. Those days only Brahmis were allowed to paint their houses blue.
He wanted to build a good fort at a safe place. There were mountains in the south of Mandore. The name of this rock was Bhakur Cheeria. Some people call it 'Bhaur Cheeria'.  Cheeria is basically a sparrow. A part of those mountains was occupied by a saint Cheeria Nath ji. Rao Jodha and Shree Karni Mata requested Cheeria Nath ji to move his ashram to another place. Initially, Cheeria Nath ji was not willing to shift. Later he was forced with a humble request to shift as the new fort was the dire necessity for the state.
At Last, Cheeria Nath ji shifted but he cursed Rao Jodha that his fort may face scarcity of water.
There is another negative fact about the construction of the fort. Those days, it was considered auspicious that if you bury a person live under the foundation, it would be a successful construction. The victim was Raja Ram Meghwal. Rao Jodha assured Raja Ram that his family would be taken care of in the future years. It is a truth that descendant family of Raja Ram Meghwal still live in Raj Bagh, which is a part of the fort.
Shree Karni Mata laid down the foundation the Fort Mehrangarh. The name Mehrangarh was kept from the word Mihir. Mihir is a Sanskrit word which means 'Sun'. Jodhpur is also known by the name of 'Sun City'.
Forts of Bikaner and Jodhpur still belong to Rathores. Maybe, because Shree Karnee Mata laid the foundation, as the people of Jodhpur believe.
There are winding roads from the city leading to the fort.
If you look at the gates and walls, you can check out even the impressions of ammunition, thrown by the attacking enemies.
Mehrangarh Fort History:
Some contribution of the heritage goes Maharaja Jaswant Singh (1629-1678). He was son of Gaj Singh.
His father Gaj Singh was a very talented person. He has authored 'Siddhant Bodh', 'Anand Vilas' and 'Bhasa Bhusan'.
Shahjahan handed over part of Marwar including Jodhpur to Maharaja Jaswant Singh in 1638 as desired by his father on his death in 1638. Jaswant Singh was the subedar of Assam from 1656 to 1666 when the majority of the empire was under Shah Jahan (1592-1666). Shahjahan granted the title of Maharaja to Jaswant Singh in 1654.
In 1658, there was a fight between Maharaja Jaswant Singh and Aurangzeb (1618 -1707) at Dharamatpur. Aurangzeb invited Murad, his yonuger brother, to join him in the fight. Jaswant Singh waited for this and allowed the two armies to fight together against him.
In the meanwhile, Shahjahan sent his Army General Kasim Khan to help Jaswant Singh but Aurangzeb won over the General during this period. This way Aurangzeb and Murad defeated Jaswant Singh by deception.
Later on Ajit Singh (1679 -1724), who was the son of Jaswant Singh, took over the fort after the death of Aurangzeb in 1707.
After that,  the fort was occupied by Maharaja Man Singh (1783-1843) of Marwar. He was the adopted son and heir of Maharaj Sher Singh. Maharaja Sher Singh was son of Vijay Singh. Vijay Singh appointed Man Singh as the heir of the throne in 1791.
After Man Singh, Takht Singh (1819-1873) was the Maharaja of Jodhpur during (1843–1873).
Jaswant Singh II (1838-1895) was the Maharaja of Jodhpur from 1873 to 1895.
Later on, Maharajas were Maharaja Sardar Singh (1895-1911), Sumer Singh (1911-1918), Umaid Singh(1918-1947) Hanwant Singh (1947-1952), Gaj Singh Rathore (1952-till date)
Check out Complete List of rulers at Wikipedia.
Mehrangarh Fort Palaces:
There are many palaces inside the fort.  There are palaces named Moti Mahal, Phool Mahal, Sheesh Mahal.  The others are Sileh Khana and Daulat Khana.
Umaid Bhawan Palace was constructed by Maharaja Umaid Singh. The construction was completed in 1943.
Mehrangarh Fort Pols:
The Fort has got seven pols to enter into the fort.
In 1806, the combined armies of Jaipur and Bikaner attacked Marwar. Maharaja Man Singh defeated the two armies. In the memory of that victory, he made the Gate 'Jai Pol' at Mehrangarh Fort.
Fateh Pol was built by Maharaja Ajit Singh (1679 –1724) to commemorate the victory over Mughals.
Other Pols are Dedh Kamgra Pol (Lakhna Pol), Loha Pol,  Suraj Pol, Bhairon Pol (Bheru Pol), Marti Pol (Amriti Pol).
There is a mention about Gopal Pol and Taoti Pol in the fort but they are missing and have to be explored.
Palm Impressions of Queens:
To the left of Loha Pol there are 5 impressions, and 31 impressions of palms of Six Queens and 58 Dasees who set afire on the funeral pyre of Ajeet Singh in 1724.
There is a small shed at the left of the fort, made in the memory of Kirat Singh Soda. He was a very brave soldier of Mehrangarh. He fell on the spot safeguarding the fort.
Mehrangarh Fort Palace Museum:
Museum at Mehrangarh fort is among the prominent Museums of Rajasthan. There is a great collection of palanquins, elephant howdahs. Also, there are royal cradles, miniatures, musical instruments, costumes, and furniture. There is old cannon including Kilkila Cannon.
Jaswant Thada Mausoleum:
This is a white building besides the fort.  It was built by Maharaja Sardar Singh in the memory of Maharaja Jaswant Singh II in 1899.
Flying Fox:
There is a provision of Flying Fox (Zip Lining) to view the different mesmerizing sites of lakes and gardens. There are several Zip Linings to view the different places.
You can visit Nahargarh Fort which is among the prominent forts of India.