Kochi :
Situated in the southern Indian state of Kerala, it is a city which has been a port since the year 1341. It is the largest city in Kerala state.  This city has an area of 94.88 sq km. in God's Own Country. Formerly this city was called Cochin.
Kochi can be reached by rail as well as air very easily from most parts of India. The railway station is Ernakulam and its airport is Kochi.
For tourists, a visit to Kochi can be a very interesting experience. There is plenty to see and enjoy in this city. The places of tourist interest are given below.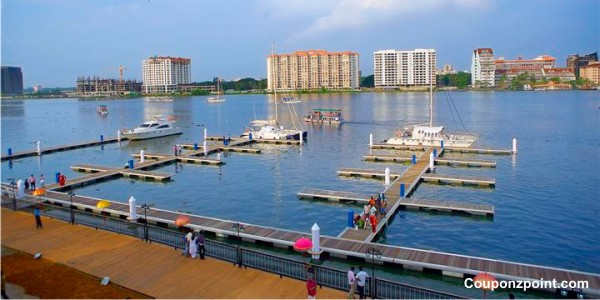 Mattancherry Palace :
The Portuguese built this palace in the year 1555. A good place to enjoy the palace is by spending an hour seeing the structure built so many years ago. It is also called the Dutch Palace.
Paradesi Synagogue :
The antiques in this place are very interesting. Must visit and enjoy.
St Georges Forane church :
`

There is the oldest church called St Georges Forane church in this place. It was built in AD 594. St. George is a saint to whom people pray to prevent snake bites and to heal mental disorders. This saint is one of the most venerated saints in Kerala.  There are plenty of Tourist places to visit in Kochi in the Kerala state in India.  Hill Palace, Ernakulam Shiva Temple, Church & many other places.
Veegaland :
This is an amusement park where families would like to spend time as children will enjoy a complete day on the wide variety of fun and amusement swings.
Marine Drive Kochi :
Facing the backwaters this promenade is 1.75 km. in length. A walk along Marine Drive is a great way to spend evenings. The Rainbow Bridge, the Chinese Fishing Net Bridge, and the House Boat Bridge are along the walkway and can be enjoyed.
Ernakulam Shiva Temple :
This is a major and famous Shiva temple. Its deity was known to be a protector of Ernakulam city. The temple is built on one acre of land and was one of the seven royal temples of the Kochi Maharajas.
Fort Kochi :
This is the historical part of Kochi. It is also known as Old Kochi or West Kochi. This part of Kochi was handed over to the Portuguese in 1503 by the King of Kochi. Fort Kochi was in the control of Portuguese and then under the Dutch followed by the British until India's independence.
Tourists now enjoy the early Chinese Fishing Nets which were introduced in the fourteenth century. This place is near to the beach which is very natural, beautiful and scenic.
Hill Palace :
This is the largest archaeological museum in Kerala and is a tourist attraction. It is situated in Thrippunithura.
Man today realizes the need for holidays at regular intervals to de-stress himself and also to spend time with his family and friends. Kochi should be considered as a good destination to enjoy nature and the great creations in Gods Own Country.
You can check out Munnar Tourist Places to Visit in Kerala India.