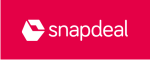 Casual Shoes for Women @ Upto 50% Off
9:00 AM
Buy Casual Shoes for Women at up to 50% discount.
Snapdeal offers 4000+ shoes – sneakers, loafers, business Casuals and sports shoes.
Brands are Vans, Puma, Carlton London, Lavie, Clarks etc.
Shoes are in leather, canvas, fabric, etc.
Check out Snapdeal to buy women's casual shoes at the best prices.
No Snapdeal coupon required.