JBL Headphones Exchange Offers
JBL Earphones Exchange Offers
Sony Earphones/Headphones Exchange Offers
Exchange your old headphone with the new at Amazon. Choose your brand JBL, Sony, Boat, or any other. Save and get value for your money.
Best JBL Bluetooth Headphones Wireless Offers
Buy JBL Bluetooth Headphones Wireless at upto 50% Off at Amazon.  Check out the best models of JBL Headphones, maximum Star Rated at Amazon.
JBL Bluetooth headphones enable you to use headphones or earphones without any cable or wire attached between the headphones and the device. Therefore, these are wireless headphones.  Earlier people were using cabled headphones but they were feeling very uneasy while using it because the cable gets entangled with clothes and other things.
We are giving here below the list of the Best JBL Bluetooth headphones.  You can choose as per your liking.
It is Endurance Run BT Sweat Proof Headphone.
It has a Flip hook. It is a flexible two-way design which allows in-ear or behind-the-ear.
This headphone does not hurt and does not fall out even during a workout.
It is sweat proof and allows long hours of workout.
Battery back up allows 6 hours of wireless playback.
You can have hands-free calls with one button inline to continue workout for hours.
If you double press inline button, it activates Google Now or Siri.
It has got magnetic buds to fold when not in use.
There is a 1 year manufacturer's warranty
It is On-Ear Bluetooth noise canceling headphone. It reduces outside noise.
This headphone provides Pure Bass sound- that is both deep and powerful.
It has Bluetooth transmitter power of 0-4 dbm.
It has Bluetooth frequency of 2.402GHz-2.48GH.
It has got 12-hour battery life with 2 hrs of recharge time.
You can make hands-free calls three-button remote with microphone.
It is lightweight and foldable design.
There is 1 year manufacturer's warranty
It is with Powerful Bass.
It provides high-quality sound from your smartphone or tablet wirelessly.
This JBL Signature Sound provides an immersive audio experience that only.
The button easily controls your sound and manages your calls.
Battery allows 16hours supports for 2-hour recharge.
It is made of lightweight materials and foldable design.
You can operate Siri or Google Now with just a single button.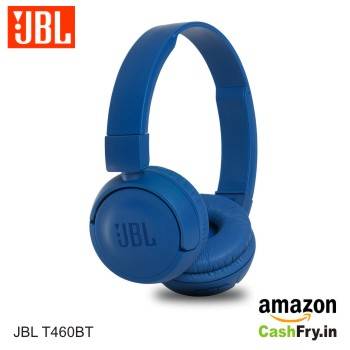 It is with Extra Bass, On-Ear headphone with Mic
It has JBL Pure Bass sound with both deep and powerful bass. The charge time is 3 hours and the frequency response is 20Hz – 20k Hz
Wireless Bluetooth Streaming- Wirelessly stream high-quality sound from any Bluetooth enabled device.
3 hours recharge provides 11-hour battery life.
You can control call and music with a button on the ear cup.
You can fold it flat.
There is 32mm Dynamic Driver wich punches out Pure powerful bass.
It has got 1 year manufacturer's warranty.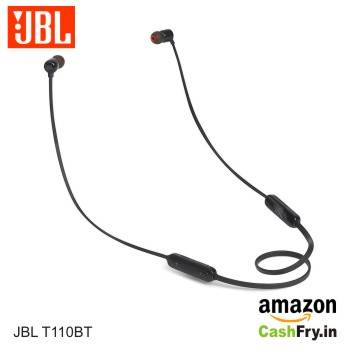 It is with Pure Bass.
It gives out JBL Legendary Sound with powerful bass.
You can listen to music wirelessly from any Bluetooth enabled device.
It has got 6-hour battery life with 2 hrs recharge.
It is a magnetic cable which can be easily folded when not in use.
There is a 3 Button Universal Remote allows hands-free calls and music.
These are comfort-fit earbuds for long-listening hours.
There is 1 year manufacturer's warranty.
It is with Pure Bass in-Ear.
It is light weight with sleek looks.
It delivers JBL Signature Sound.
This headphone delivers the best bass output in its segment.
2 hours of battery recharge provides 6 hours of playing time.
One button manages your calls and music effortlessly.
It is lightweight and comfortable to listen to music for long hours.
It has 1 Year Replacement Warranty
You can further check out Amazon Promo Code India at CashFry to find more offers, deals and discounts for buying various Bluetooth headphones or Wireless Headphones.
Story of JBL Brand
JBL belongs to Harman International Industries which is a subsidiary of South Korean Company Samsung Electronics. JBL was founded by James Bullough Lansing (JBL) in 1946. But JBL himself was in the business since 1927.
JBL and his partner Ken Decker opened a company in 1927 to manufacture radio consoles and radio sets. The name of the company was the Lansing Manufacturing Company. In 1939, Decker died in a plane crash and the company got into financial problems. The company was sold to Altec Service Corporation and the name of the company changed to Altec Lansing.
In 1946, JBL's contract expired and made a new company named Lansing Sound Inc. Later he changed the name to James B. Lansing Sound. Thus the brand name became JBL. JBL died in 1949.  But today this brand is doing wonders. The great blessings go to the founder James Bullough Lansing, the real man behind JBL. Enjoy the JBL Bluetooth headphones and the JBL Wireless Headphones, Earphones, the cheapest and the best.