Today I called up their corporate office in Noida but its just ringing bells.  Nobody is picking up the phone.  Their contact details as on today are as under: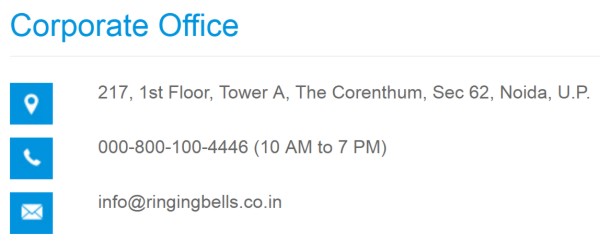 Freedom251 did a lot of advertisement for smartphone @ Rs 251/- only.  They had a website named freedom251.com which is being redirected to ringingbells.co.in.  The freedom251 domain was booked in February 2016. There were full-page advertisements in The Times of India, Dainik Bhaskar, and other newspapers.
If they had spent money on such an expensive advertisement they should have at least maintained a small call center to attend queries.  They should have kept everything crystal clear online. How many people have got Freedom251 mobilNobody? Nobody knows. If we see the statistical data of google search for  Freedom 251, there were 30.6 million hits to Freedom251.com only in the month of February this year 2016.  There is a regular search of about 3 lacs every month.  RingingBells is also being searched to the tune of 70k every month.  There is no news of distribution of Mobile sets as of now.  They should build trust and put their names and their social links, contact details online.  Please see the comments on Freedom251info.com.   How people are frustrated!  Check out the Tweets about Freedom 251.
Ringing Bells had launched another phone 'Champone' for Rs 501 and built another website Champ1India.com which is not working now.  You can checkout Specifications of Champone online but nothing more than this about the phone.  They have introduced 'Elegant' instead, at ringingbells.co.in.  If you click 'buy now' button at Ringing Bells for this new phone Elegant, it will give you the option to join RB Loyalty Program.  Please see the program.  It looks like some MLM website.
If we see the future of MLM websites, that has gone zero after 'SpeakAsia'.  There are sites like 'Amway' and 'Forever Living Products' which are surviving in India.  Both websites are foreign websites. They keep everything transparent online and easily understandable.  RingingBells is old wine in a new bottle.  It is only quantum-based or says on the basis of mass sale. That is why they gave full-page ads in the newspapers.  But they never knew, the huge mob would reach at their office in Noida to buy the phone directly by paying Rs 251/-
We are looking forward that Ringing Bells may distribute the Freedom251 mobile phones to the people who paid for it.  Otherwise, nobody would rely upon such sites, MLM types.
Be careful Guys in future!
In case you want to buy a Smartphone at the cheapest and the Lowest Price you must buy at Flipkart.com.  Flipkart offers Flipkart Discount Coupons by which you can save a significant amount by getting discounts.
Check out Letsbuy bought by Flipkart.