Best Coffee Shops in Hyderabad
Find the Best Coffee Shops in Hyderabad. There are Starbucks, Cafe Coffee Day, Autumn Leaf Cafe, a few more which are the real Good ones, Calm, Peaceful having the soothing ambiance and Exotic interiors.
You can enjoy a cup of coffee at the exotic restaurant of Hyderabad. Some places are in open air and the others are in the lush green atmosphere of beautiful trees and plants. Find time to enjoy sips of coffee in the beautiful city of Hyderabad.
A coffee shop, also known as 'cafe', is a great place to hang out with your loved ones, sip a beverage of your choice and grab a quick bite. These cafes have great vibes and are lively, vibrant and offer varieties of beverages, snacks, and desserts. Below mentioned are some of the Best Coffee Shops in Hyderabad.
If you want delivery any food items from the following restaurants, you can place an order at Swiggy.  You can get discounts and cashback at CashFry with Swiggy Coupons for Existing Users and Swiggy First Order Coupon.
1. The Coffee Cup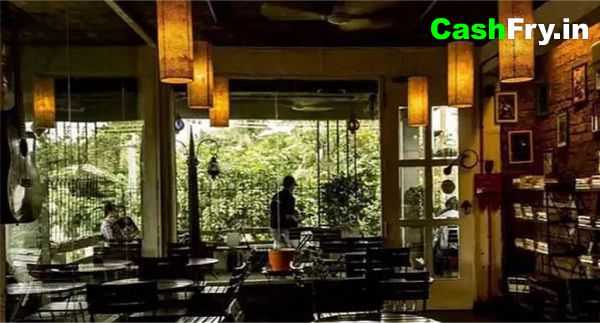 Located in the outskirts, away from the city rush, in Sainikpuri. Coffee Cup has a rustic yet classy vibe and serves Continental food. They don't just provide an amazing coffee experience and breakfast, but they also provide loads of entertainment. You can play karaoke, board games or online games using their free Wi-Fi. If those don't interest you, live music and outdoor seating, surely will! The coffee Shop gives the antique look with dim lights.
2. Starbucks
Starbucks is always a great place for coffee and is famous worldwide. The branch in Jubilee Hills is one of the best coffee shops in the Hyderabad. They provide snacks and desserts. Their Coffee, Mushroom sandwich, Pasta, Hot chocolate, Caramel Frappuccino, and Chicken sandwich are definitely worth the visit! Filled with luxurious and rustic design, this cafe is the perfect place to go and a have a lux experience with the outdoor seatings and free Wi-Fi.
3. Autumn Leaf Cafe
Another refreshing coffee shop in Jubilee Hills is the Autumn Leaf Cafe. This place has a rustic and industrial vibe with an indoor-outdoor feel to it. Many people describe it as the house turned into a serene cafe and a vintage gallery. You can shop for vintage artwork and even get your pets here to have a nice time! Their Mocktails, Salads, Waffles, Pasta, Potato skins, and Burgers are very popular. The food quality will surely leave you wanting for more. You can find a lot of greenery around.  This is most sought after Coffee Shop in Hyderabad.
4. The Roastery Coffee House
The Roastery Coffee House in Banjara Hills is a homely, chic and luxurious cafe. They provide breakfast and desserts. They serve American, Continental, and Italian cuisines. Their Coffee, Spinach corn sandwich, pasta, Chicken Barbeque Burger and Brownie shake are a hit. You can even get your kids and pets and have quality time with them and enjoy the seating outside too.
If you want to save on delivery charges, there are Swiggy Free Delivery Coupons at CashFry.
5. Ciclo Cafe
Ciclo Cafe is among the famous cafes in Jubilee Hills. The cafe has a cozy, contemporary and industrial atmosphere. They serve snacks, Italian and American cuisines. They are known for their fun, cycle themed interior. Regular customers love their Coffee, Crepe. Pizza, Paneer Tikka, Salads, Burgers, and Pasta. It's the best place to have a cup of coffee and relax in the soothing lights and calming music.
6.Conçu
This café is located in Jubilee Hills, has a very bohemian and coastal ambiance. It is one of the best bakeries in the city which serves the best Cakes, Tiramisu, Cheesecake, Irish coffee, Carrot Cake, Jasmine Tea, Choux Pastry, Croissants, and their Macaroons are to die for! Their desserts are so good that people call it the Dessert Heaven! You can relax in the outdoor seats and refresh yourself with a fresh cup of coffee.
At Swiggy, there are special Coupons and discounts for Hyderabad. You can check out Swiggy Coupons Hyderabad at CashFry.
7. Cafe Coffee Day (CCD)
Cafe Coffee Day is the most popular coffee shop in India. It is a range of Indian restaurants. The Owner of  CCD grows Coffee in his own land of 12000 acres.  It is considered as the quality restaurant. You can find plenty of Fast food items and beverages. There are various types of Hot Coffees, Teas, and cold Coffees.  You can drink shakes, eat Pizzas, Pastries, Cakes, and plenty of other items.
All these places are a must visit if you love chilling with a cup of coffee. Do check them out and have a great time!
Hyderabad is a very beautiful city. If you are new to Hyderabad, you must visit the Historical Places and the Tourist Places in Hyderabad.