Alappuzha Tourist Places:
Visit Alappuzha Tourist Places, Alleppey Beach, Krishna Puram Temple, Kumarakom, Marari Beach, and other exotic tourist places to visit in Alleppey (Alappuzha).
How to reach Alappuzha (Alleppey
You can take a flight to Kochi and hire a cab from there. There are plenty of Places to visit in Alleppey.  Tourist Places in Alappuzha or Alleppey are worth visiting.
Alappuzha is also called as Alleppy. It is a city in the southern Indian state of Kerala.  It is noted for its great natural beauty and carpets of greenery. Visiting this city should be at least once in a lifetime for every Indian who can afford it. The earlier you undertake a trip to Alleppey the better it is. A trip to this city is best enjoyed when traveling in a group; be it the young and vibrant or those wanna get away with families, children or grandparents.  Even honeymooners in search of the romantic candle-lit-dinners along the world-renowned backwaters.
This city can be reached from Kochi airport by road or from Ernakulam Railway station as it is only 60 km. away.  Alleppey's spectacular backwaters is the picture perfect postcard.  There are rolling green paddy fields complemented by a background of rhythmically swaying coconut palms. The climax of the visit to this place is undoubtedly an overnight stay in a houseboat on the backwaters.  Enjoy the replete cooked onboard meals and the great regal attendant services. It is certainly the most peaceful experience being on a moving houseboat watching the blue backwaters with its natural picture perfect sun setting.  Enjoy sharpening your taste buds to a delectable dish of Keralite Appams and Stew. And for those who have limited time may preclude the overnight stay on a houseboat and go for a convenient boat rides.  Enjoy the short trip to check out the spectacular showcase of nature.
You can book your flight and Hotel at Discounted Price with MakeMyTrip Domestic Flight Offers
Alleppey Beach :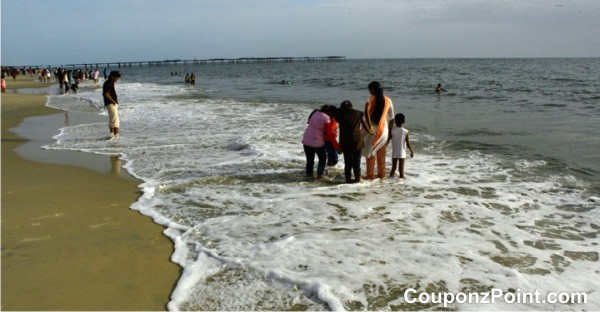 This beautiful beach has got the white shifting sands, blue shimmering waters of the Arabian Sea.  There are swaying coconut palms, exhilarating sea breeze, fresh toddy from the trees.  There are exquisitely manicured gardens, a lighthouse from days gone by.  Have the leisurely walks along the beach.  Go to make a perfect getaway from the lousy hustle and bustle of life.
Krishnapuram Palace :
This is an archaeological museum and was built in the eighteenth century by Maharaja Marthanda Varma. There is the largest mural of Kerala called Gajendra Moksham which is 14 feet by 11 feet. A Visit to this Palace will be enjoyed.
St. Mary Forane Church :
This church was built in 1870. It is one of the oldest churches in Kerala. Tourists visit this church to see its very beautiful sculptures and murals.
You can book your flight ticket at the discounted price by using MakeMyTrip Promo Codes at CashFry.in.
Kumarakom :
Those who go to Alleppey also visit Kumarakom which is only 45 km away. This is a place for bird watching as many migratory birds are seen here every year, eg. teals, larks, parrots, and Siberian Cranes can be seen.
Marari Beach :
This beach is approx 11 km from Alleppey in Mararikulam. This is a great picnic venue and all enjoy gazing into what seems like a never-ending ocean.
Revi Karunakaran Museum Alappuzha :
This is built in honor of Ravi Karunakaran of the COIR industry in Kerala. The museum has a good collection of items of Ravi Karunakaran.
Floating Mall :
There is a unique shopping experience in a floating mall on Vembanad Lake. It is a state-owned market called Floating Triveni which stocks provisions, stationery, toiletries, etc.
You must plan a visit as there are plenty of tourist places in Alleppey.
There is an article about Gangtok Sight Seeing.  There are plenty of Tourist Places in Gangtok. It is a very good hill stations.  You can see Kanchenjunga from the different view points in Gangtok.