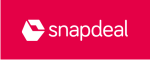 Best Budget Laptops @ Upto 25% Off
12:00 PM
Buy Best Budget Laptops at up to 25% off.
Snapdeal offers 100+ laptops online – Notebooks, Chrome books, Netbooks, and MacBooks.
Top laptop brands – Dell, HP, Apple, Lenovo, Asus, Acer etc.
Laptops have features – Processor of Intel Core i7 or latest processor, up to 16 GB RAM, up to 2 TB Hard Disk, 15-6" – 17.9" Screen sizes, Touchscreen, pre-loaded windows or DOS OS, Dedicated Graphic Card, HD webcam, Long battery backup, manufacturer warranty and more.
Check out Snapdeal for best budget laptops online.