December is one of the most vacation-friendly months in India. It is winter here in India during the month of December. As we know people of India love traveling and enjoy visiting different places. There are a number of holidays and festivals in December, so picking up a destination for traveling in India shouldn't be very tough.
We have come up with some Holiday Destinations, you might consider visiting them in the month of December.
Udaipur Tourist Places:
This is one of the oldest cities in the western Indian state of Rajasthan. Formerly it was the capital of the Rajput Kingdom Mewar. It is also called one of the most romantic cities in India. Udaipur is home of Lake Pichola and Fateh Sagar along with magnificent palaces like City Palace, Monsoon Palace, and Lake Palace. Don't miss eating out famous Marwari food in Udaipur.
Gulmarg Tourist Places:
Gulmarg is town, located in Baramulla district in Jammu and Kashmir. Gulmarg is a breathtaking honeymoon destination. During winters it is flooded with new married couples. This place will surely provide you with perfect skiing memory, which you defiantly want to take home. If you are going in the month of December, you need to pack up your all winter clothes along.
You can book your flight and Hotel at the discounted price with MakeMyTrip Coupons and MakeMyTrip Promo Code Hotel.
Goa Tourist Places:

Goa is a very popular tourist place in India. It is on the seashore. There are plenty of beaches. This is one of the places you can visit all around the year. But what makes so special visiting Goa in December is Christmas, Sunburn Festival and New Year's Eve. In December you need to be prepared for large crowds all around. During this time period, Goa is super expensive.
Auli Tourist Places: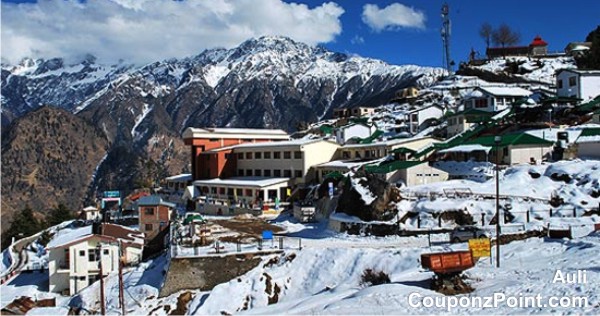 Auli is one of the most popular hill station and ski destinations in Himalayan Mountains in Uttarakhand. December is the best time to visit here due to heavy snowfall in the area. You can visit this place and have snowball fights, skiing, and some other adventurous sports.
Kochi Tourist Places:
If you don't like winters then Kochi is one of the best places to visit. It was also known Cochin for a long time and it is one of the fastest growing cities in India. Kochi has a lot to offers when it comes to visiting churches and chapels. December is the best time to visit here because of Kochi Carnival and Kochi fort.
You can reduce your tour expenses by using Coupon Codes, Promo codes and offers Online. Yatra is an upcoming travel portal in India.  You can check out Yatra coupons before planning any holiday tour at CashFry.in.
Check out Best Restaurants in Bangalore.