Jaipur is situated in the state of Rajasthan in Northern India. It is the capital of Rajasthan and considered as the largest city in the state. It was founded on 18th November 1726 by Maharaja Jai Singh II. He was the ruler of Amer. Jaipur was named after his initial. The city has a population of 3.1 million, making it the tenth most populous city in the country. Jaipur is also called the Pink City of India.
Jaipur also tends to serve as a gateway to the various other tourist places in Rajasthan such as Jodhpur, Jaisalmer, and Udaipur.
It is located 260 km from the Indian capital New Delhi. Jaipur forms a part of the Golden Triangle tourist circuit which includes Agra, Delhi, and Jaipur.
Jaipur is located on National Highway No. 8 which actually connects Delhi and Mumbai. National Highway 12 connects Jaipur with Kota. Kota is also a tourist destination. National Highway 11 connects Bikaner with Agra via Jaipur. Bikaner and Agra are very popular tourist places. RedBus and MyBusTickets operate bus service to all the major cities in India. Jaipur Railway Station is well connected to the different cities. Jaipur can also be reached by air. It has an airport connected to all the metro cities and a few other important destinations.
Jaipur is ranked among the best place to visit. Conde Nast Traveller Readers Choice Survey, of the year 2008 ranked Jaipur as the 7th best place to visit in Asia TripAdvisor's 2015 Traveller's Choice Awards Jaipur ranked 1st among the Indian destination for the year. A trip to the pink city of Jaipur would be enjoyed. The young and old will find many attractions to spend some memorable moments.  Get the best deals for travel at Yatra Coupons.
City Palace:
Construction of City palace started between 1729 and 1732. Sawai Jai Singh II, who was the ruler of Amber, took the initiative to build this palace. It is located in the center of the city. The palace carried the architecture of different ages. This palace is great attraction for tourists. Chandra Mahal which is a part of the palace is transformed into a museum. It showcases the collection of arms, kings and Queens costumes and carriages. There are many other attractions in the palace.
Hawa Mahal(Palace of Winds):
The structure of the palace was built in 1799 by Maharaja Sawai Pratap Singh. Hawa Mahal is a five-storey pyramidal shaped monument with 953 windows that rises 15 metres (50 ft) from its high base. Rajput queens were not allowed to go out of the palace and interact with the general public. These windows were made with the purpose so that the women of the royal family could see the street festivals from the windows. It is designed like the Crown of Lord Krishna.
Jantar Mantar:
Jantar Mantar is another attraction of Jaipur which was built by Maharaja Sawai Jai Singh in 1738, who had the keen interest in astronomy. Historians and astronomers throughout the world visit this place. There are plenty of curious travelers who visit Jantar Mantar just to understand how it works. There are scientific instruments to observe the astronomical positions with naked eyes.
Jal Mahal (Water Palace):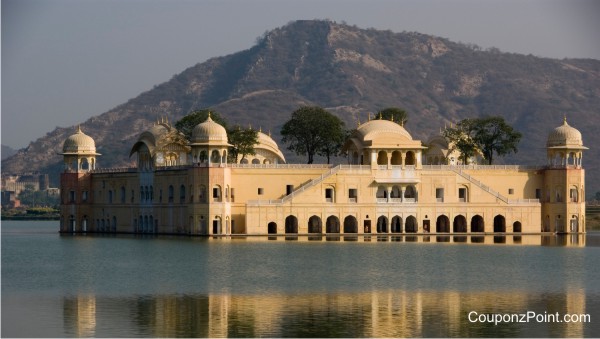 Jal Mahal is situated in the heart of the Man Sagar Lake. Man Sagar Lake is in Jaipur, surrounded by Nahargarh Hills near a dam. This site is good for photography.
There was an acute shortage of water due to the famine in 1596 AD. The ruler of Amer at that time made a dam to overcome the shortage of water.
Amer Fort :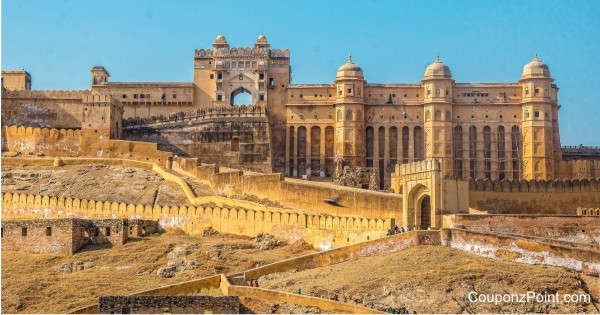 Amer fort is 11 kms from Jaipur. It was built by Raja Man Singh I in the 16th century. It is a fort as well as Palace. There is Diwan-i-Aam (Hall of Public Audience) and the Diwan-i-Khas (Hall of Private Audience). There is Sheesh Mahal (mirror palace), and the Sukh Niwas. Sukhniwas is a place where a cool climate is artificially created by winds. These winds blow over a water cascade within the palace. This a very beautiful place.
Jaigarh Fort:
Jaigarh Fort is situated at Cheel ka Teela hill in Aravali range. This fort was built in the 18th century by Maharaja Sawai Jai Singh II. This fort was used as a shield to protect Amber Fort and Jaipur city from the attack of invaders. This fort never witnessed any defeat. That is why it is called as the 'Fort of Victory'.
Nahargarh Fort:
Nahargarh Fort was also built by Maharaja Sawai Jai Singh II in the 18th century. It provides an extra defence to Jaipur City apart from Amer and Jaigarh fort.
You can book your flight ticket at the discounted fare with MakeMyTrip Coupons
Kanak Vrindavan:
Kanak Vrindavan is a garden built by Maharaja Sawai Jai Singh. It is a beautiful spot for a get together and picnics.
Chand Baori:
It is a step-well situated about 95 Kms from Jaipur in the Abhaneri village opposite the 'Harshat Mata Temple'. It was built in the 8th/9th century to meet the requirement of water.
'Chhatris' of 'Gaitore':
Gaitore is a small valley on Jaipur Amer road. Gaitore is a cremation place of Maharajas of Jaipur. Gaitore is basically 'gaye ka thor' which means resting place of departed souls. There are Chhatris (Cenotaphs) of Rajput.
Jagat Shiromani Temple:
This is a beautiful temple of Lord Vishnu. This temple is also dedicated to Meera and Lord Krishna. It was built in the 17th century.
Galtaji Temple:
Galtaji temple is situated at a distance of 10 Kms from Jaipur. It was built by Diwan Rao Kriparam, the attendant of Maharaja Sawai Jai Singh II. The temple is surrounded by hills of Aravali range. There are monkeys all around the temple. Some people call it monkey temple. This temple is built on the site where Rishi Galav had a rigorous penance for 100 years. There is ample of water. There are water kunds. Galta Kund is considered to be the most sacred. People take bath in kunds, especially on Makar Sankranti.
Sisodia Rani Bagh:
This is a beautiful garden in Jaipur. It was built in 1728 by Maharaja Sawai Jai Singh II as a gift to his second wife Sisodia Rani.
Birla Mandir:
It is a beautiful temple built by Birla family in 1988. It is dedicated to Lord Vishnu and Goddess Lakshmi.
Anokhi Museum of Hand Printing: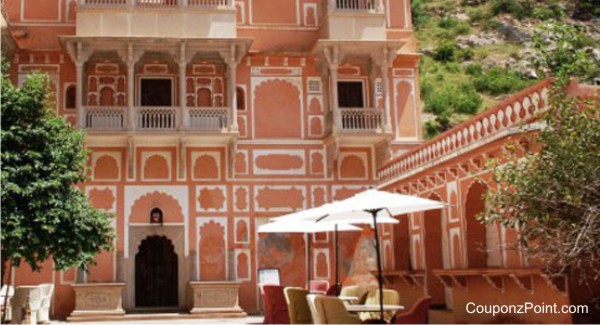 Anokhi Museum of hand printing is devoted to the collection of block printing. Blocks are generally made of wood. On the festival of Holi, children make blocks of potatoes just slicing a big potato in the middle, making it into two parts and then writing something on the plain surface. Anokhi Museum is a source of great information about textile printing. Artists and textile designers must visit this beautiful museum in Jaipur. They will be able to understand the specialty and the quality of the prints. The museum also organizes the educational programs and workshop for the learners. The artist and the textile designers can create more complex and advanced prints by understanding the old method of block printing.
Dolls Museum, Jaipur:
It was constructed in 1974. There is a great collection of dolls from different countries around the world. You can have a glimpse of different cultures around the world.
Albert Hall museum/Government Central:
This museum was constructed in 1876. It was designed by Colonel Sir Swinton Jacob. The building of the museum was constructed for greeting King Edward VII, the Prince of Wales on his visit to India. There are various paintings and portraits of royal kings. There are carved woodworks, metal works, brass made jewelry, traditional dresses and clay wares.
Hawa Mahal Museum:
Hawa Mahal Museum is built at the back of Hawa Mahal. There are a lot of antiques, arrowheads, terracotta jewelry and objects, fish hooks, helmets, swords and other belongings of Rajput kings. There is a huge storage vessel of the olden time. It is said that this vessel was made in the 2nd century.
Maharaja Sawai Man Singh II Museum:
It is situated in City Palace. There is a big collection of manuscripts, photographs, artworks, paintings, arms and many other things belonged to Rajput Kings. This museum is a major part of the City Palace.
Shopping at Jaipur:
Jaipur has many traditional shops selling antiques and handicrafts. The rulers of Jaipur patronized a number of arts and crafts. Skilled artisans, artists, and craftsmen were invited from India and abroad who settled in the city. Some of the crafts include bandhani, block printing, stone carving and sculpture, tarkashi, to name a few.
Performing Arts:

Jaipur has its own performing arts. The Jaipur Gharana for Kathak and Ghoomar are popular folk dance styles. Tamasha is an art form where Kathputli puppet dance is shown in play form. Jaipur has four majors fairs and festivals namely Elephant Festival, Gangaur, Kite Festival and Teej. Jaipur is also famous for the Jaipur Literature Festival. This is the world's largest free literature festival. For this festival country-wide authors, writers and literature lovers come to participate.
It is ideal to visit Jaipur as a short holiday destination whenever there is a long weekend. This can be done by people living in Delhi as they can reach Jaipur by road very easily. Moreover, many tourist buses operate at regular intervals.
With so much to see and enjoy at leisure in the famous city, it is a worthwhile experience. For those with a mood to shop this city offers plenty of color bandhni and real and costume fashion jewelry in very exquisite designs.
Check out Places to Visit in Jaipur | Tourist Places in Jaipur.