What is a T-Shirt?
T-Shirt is called as 'T" Shirt because it is like 'T', but which are without sleeves and do not look like T are also called T Shirts.  There are following types of T-Shirts. It was invented in the 19th century. The round neck T shirts were initially used as undergarments. Slowly these t-shirts were replaced by single jersey thin knitted fabric vests. These days Cotton Knitted T-shirts are worn by everybody in place of Shirts.  It is Unisex clothing. Some of the ladies like to wear large, Long T-Shirts. This is the best apparel to wear during summer because it is made of knitted fabric and a person feels very comfortable wearing T-shirts.
There are a few types of T-Shirts in fashion. these days. Even Branded T-Shirts are very cheap. You can buy cotton T shirts starting from Rs 275/- We are giving details about the various types of T Shirts being used by the youth, kids, and old, all walks of life.
Buy Online at Amazon India
You can buy all the following T-Shirts at Amazon.in at discounted prices by using Amazon Promo Code India.  There are plenty of Amazon Promo Codes and Coupon Codes at CashFry.in. There are hundreds of Free Great Offers where you do not require any code.
Polo T-Shirt:
Polo T-Shirts are Shirts with Collars, with 2, 3 buttons, made out of 100% Cotton, Pique Knitted Fabric. These are short sleeved with or without a pocket. At the beginning of 20th century, Polo Players used to wear as a comfort garment.
The other version of these shirts are called Tennis Shirts. These are generally white in color, short or long sleeve. White color is used because it is a bad conductor of heat and you do not feel hot wearing these shirts. Tennis player Rene Lacoste introduced Tennis Shirts as a comfort wear. Today Lacoste T-Shirts are the most expensive t-shirts because of the quality of Fabric and cotton.
Lacoste T Shirts have 'Crocodile' emblem.  Rene Lacoste was called Crocodile due to his high speed and amazing accuracy during tennis.
Allen Solly Men's Polo (Rs 539/-)
Crew Neck T-Shirts:
'Crew' means a group of people working on a ship or an aircraft.  These shirts are round neck fitting to the neckline from all directions. These shirts were first worn by the US Navy as an undergarment. This is the reason that Round Neck T Shirts are called Crew Neck T Shirts.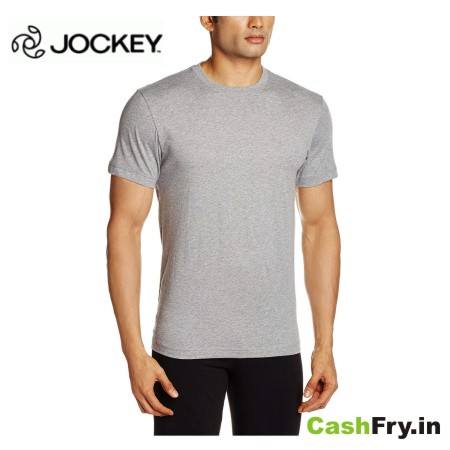 Jockey Men's Cotton T-Shirt (Rs 315)
V Neck T Shirts:
When the T Shirts have 'V' shape of a neck, are called V Neck T Shirts.
Jockey Men's Cotton T-Shirt (Rs 311/-)
Y Neck Shirts:
When the neck of the shirt is round and it has got a placket with 2, 3 buttons, is called Y Neck Style T Shirt.
Marks & Spencer Men's Solid Regular fit T-Shirt (Rs 799/-)
Scoop Neck T-Shirts
When the Neck of the Shirt is like a scoop or the front part of the spoon, is called Scoop Neck T Shirts.
A1M Men's Baby Blue Printed Scoop Neck T-shirt (Check Stock)
Without Sleeves
There are T shirts without Sleeves which are used during gym.

Jockey Men's Cotton Muscle Tee (Rs 265/-)
Long Sleeves T Shirts
These T shirts have long sleeves, are used between the winter and summer.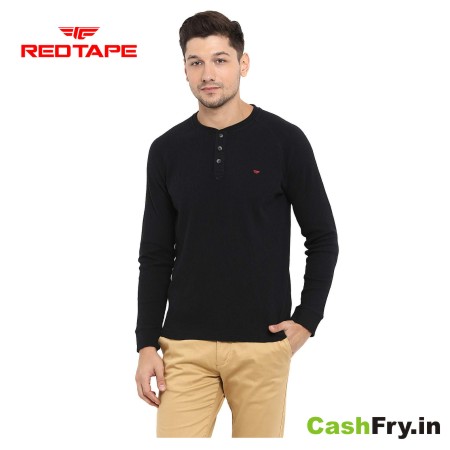 Red Tape Men's Solid Regular Fit T-Shirt (Rs 689/-)
Raglan Sleeves T Shirts
These T-Shirts have the length of 3/4 th of the full sleeves.  Badminton and Tennis players like to wear these types of shirts.
Red Tape Men's Printed Regular fit T-Shirt (Rs 520/-)
Cap sleeves Shirts
These T shirts have got shorter sleeves than half sleeves.
Champion Men's Jersey Muscle T-Shirt (All Sold Out)
Long T-shirts
These shirts longer than usual are generally worn by the ladies.